Dates of Service
civil war
Images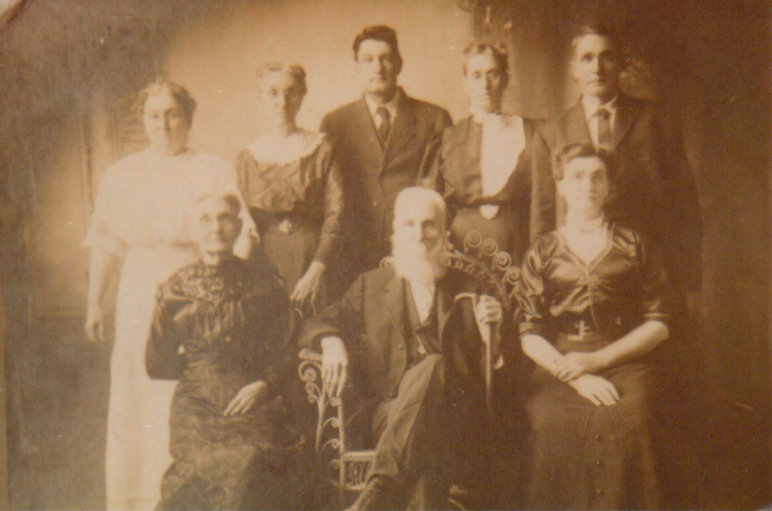 Front Row: Rebecca, Andrew and maletha
Back row: Alice, Janie John, Mary Etta and Henry
Andrew served with the 1st Kentucky Cav
Andrew Moles - 1862-65 - Private
Andrew served in the Union Cavalry and did some fighting in the Bates County area. He bought land south and east of Altona and brought his family to this area after the war. Andrew is the grandfather of Clyde Moles and the Great Grand father of Bob Moles.
Private Andrew Moles, Co. C, 1st Kentucky Cavalry, Civil War; born in Tennessee on April 14, 1833 to John and Sallie (Highsaw) Moles.
The Moles family of Fentress County, Tennessee relocated to Kentucky in the years leading up to the Civil War. Here, Andrew Moles and his two brothers enlisted to fight on behalf of the Union. The younger brothers, Andrew and George, served together with Company C, 1st Regiment Kentucky Cavalry. Among them were not only neighbors, but also their wives' brothers and extended family. After the war, these brothers and their families settled in Bates County, Missouri where many of their descendants reside today, including Andrew's great-great-grandson, Bob Moles.
Andrew Moles is laid to rest in the Altona Cemetery and his service is remembered in brick at the Lt. Charles Garrison Veterans Memorial.