Dates of Service
1943-1969
Images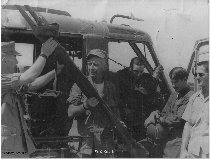 Marvin Knuth on the left, Fred Knuth center
VMTB 232
Veteran of the Month
Rapid City, South Dakota
October 2013
In partnership with the Veterans Coordination Commission, we are pleased to present the October 2013 Veteran of the Month Recognition to Mr. Fred Knuth.
Mr. Fred Knuth joined the United States Marine Corps in 1943. He attended boot camp in San Diego, California; bombardier and gunnery school at El Centro, California, and Marine aviation training at Marine Corps Air Station in El Toro, California.
Upon completion of training, he embarked to the WWII Pacific Theater and served as rear gunner on the SBD-2, Dauntless and also on the torpedo bomber, Avenger as Gunner and Radio man. He served with VMTB/232, the famous "Red Devils Scout Bombing Squadron" – the oldest and most decorated bomber squadron in Marine Corps history.
Mr. Knuth's skill, courage and accurate marksmanship enabled his pilots to safely arrive on target and successfully complete their missions. He participated in 97 combat sorties over the Japanese.
After WWII, he continued to serve on anti-submarine patrols until receiving orders transferring him back home in 1946. Mr. Knuth continued military service in the U.S. Marine Corps Inactive Reserve until the outbreak of the Korean War. In June 1950, his unit was re-activated. After training Marine pilots on the F4U Corsair weapons systems and in flight emergency ejection procedures, Mr. Knuth deployed to the Korean peninsula in 1952. He participated in 40 aerial combat missions out of the U.S. Marine airbase at Pyongtaek, South Korea. As a fire control chief on the F3D Skyknight, his missions provided escort for U.S. Air Force B-29 bombing missions over the Yalu River in North Korea. He returned home in 1954 after 18 months of aerial combat duty over the Korean peninsula.
After the Korean War, Mr. Knuth participated in NATO training exercises to the Mediterranean aboard the U.S.S. Independence. Additional deployments during this timeframe included peace time exercises in Guantanamo in 1957. He also participated in the U.S. military response associated with the Cuban Missile Crisis.
In 1967, Mr. Knuth was back in combat again being deployed to the Republic of Vietnam where he filled three critical positions of responsibility: First Sergeant, Maintenance and Electronics Chief. His unit, stationed out of Phu Baui, South Vietnam, was responsible for medevac, Close Air Support, and logistic operations in this tactically critical area of operation in the Quang Tri province.
Mr. Knuth returned home in 1969 after 14 months of combat duty in the Republic of Vietnam. At that time, he transferred to the Fleet Reserves. He continued service to his country until 1975 when he retired.
Having participated in three major military conflicts during his tour of duty with the U.S. Marine Corps, Mr. Fred Knuth served his country with pride, honor and integrity and is a true patriot of our Country and his Community. He is absolutely deserving of Veteran of the Month. Thank you for your service to our Country.