Dates of Service
1992 - (currently active)
Images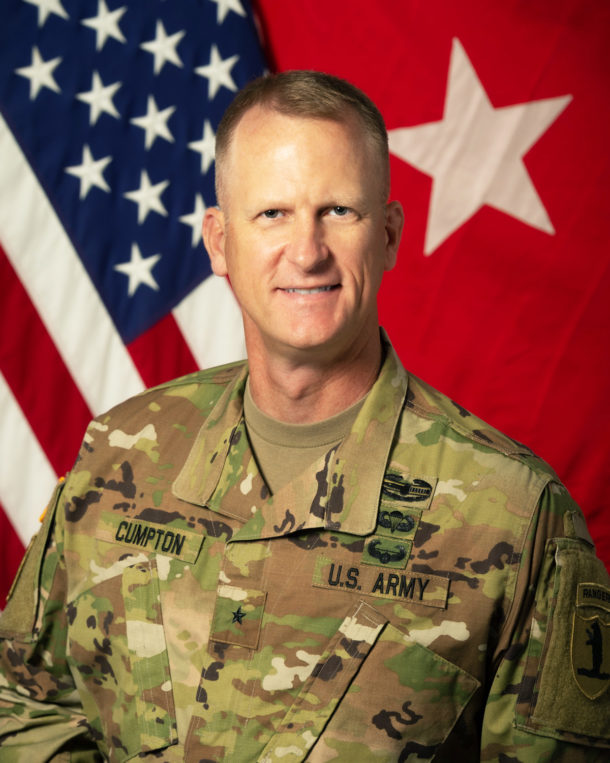 Brigadier General Levon E. Cumpton assumed duties as the Adjutant General of the Missouri National Guard, Jefferson City, Missouri, on August 2, 2019. As the Adjutant General, on behalf of the Governor, he provides command and control of over 12,000 Missouri National Guard Soldiers, Airmen, Federal, and State employees. He ensures the Missouri National Guard is manned, trained, equipped and resourced for its dual state and federal missions.
General Cumpton was raised on a farm in Bates County, Missouri and graduated from Ballard High School. He commissioned in 1990 through the Wentworth Military Academy Reserve Officer Training Corps program.
He previously served simultaneously as the 35th Engineer Brigade Commander and the Director of Manpower and Personnel for the Missouri Army National Guard. Prior assignments include: Deputy of Operations/Plans/Training, Missouri Army National Guard; Deputy Brigade Commander, 110th Maneuver Enhanced Brigade; Commander, 1-138th Infantry Battalion; Training/Operations and Executive Officer, 1138th Engineer Battalion; Commander, C Company 2-502nd Infantry, Fort Campbell, KY.
General Cumpton's operational deployments include peacekeeping missions in the Former Yugoslavian Republic of Macedonia and Kosovo, stability operations in Bosnia, and a combat tour in support of Operation Iraqi Freedom. Additionally, in Missouri, he has supported numerous declared state emergencies.
General Cumpton earned a Bachelor of Science degree from Central Missouri State University in Warrensburg, Missouri and a Masters of Strategic Studies from the Air War College at Maxwell Airforce Base in Montgomery, Alabama.
His awards, decorations, and badges include the Bronze Star Medal, Purple Heart, Meritorious Service Medal (with one silver oak leaf cluster), Ranger Tab, Combat Action Badge and the Missouri Conspicuous Service Medal. He was awarded the Bronze Order of the de Fleury Medal and the Order of Saint Maurice (Legionnaire).
(Biographical information sourced from the Missouri National Guard website at www.moguard.com)