Dates of Service
1943 to 1946
Images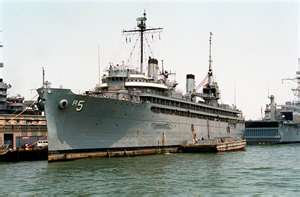 Tracy Rugg served aboard the USS Vulcan during WWII
The USS Vulcan (AR-5) keel was laid 16 December 1939 at the New York Shipbuilding Corporationin in Camden, New Jersey. Sponsored by Mrs. James Forrestal, wife of the Under Secretary of the Navy, Vulvan was launched on 14 December 1940 and commissioned at the Philadelphia Navy Yard on 14 June 1941.
After a shake down cruise to San Juan, PR, and Guantanamo Bay, Cuba, USS Vulcan underwent a final fit out at the Philadelphia Navy Yard. She was assigned to Argentia, Newfoundland, the western terminus of the convoy routes to and from Europe. As the Summer of 1941 progressed and the war in Europe pulled more US ships into convoy duty, Vulcan was moved to Iceland where she supported a Task Force that included USS Wasp (CV-7), USS Mississippi (BB-41), Wichita (CA-45),and a squadron of four destroyers. Vulcan remained in Iceland through the winter of 1942.
Vulcan arrived in Boston in May 1942, where she underwent repairs. She returned to Argentia from June to November 1942, Vulcan then steamed to Iceland on 18 November, remaining there until April 1943. After repairs in Norfolk during June 1943 , Vulcan departed for the Mediterranean and Oran, then Algiers, Algeria where she spent the next year. In late summer 1944 Vulcan supported the invasion of southern France.
Vulcan returned to Norfolk and overhaul. Exiting the shipyard she steamed to the Pacific, where she operated out of Guadalcanal, Tulagi, Nouma and Ulithi. After the war ended Vulcan moved to Okinawa. Starting in September 1945 USS Vulcan supported various ships of the Occupation Force, at Kure, Kobe and Yokosuka Japan.
In March 1946 Vulcan headed for home. touching at Pearl Harbor and transiting the Panama Canal while voyaging to Brooklyn, New York.
USS Vulcan AR-5 Deployments - Major Events
Add a AR-5 Shellback Initiation Add a AR-5 Deployment - Major Event
Month Year to Month Year Deployment / Event
DEC 1939 Keel Date: 16 DEC 1939
at New York Shipbuilding Corporation
DEC 1940 Launch Date: 14 DEC 1940
JUN 1941 Commissioned: 14 JUN 1941
SEP 1962 - NOV 1962 Cuban Missle Blockade
SEP 1962 - SEP 1962 Sea Trials
SEP 1964 - DEC 1964 Sea Trials
APR 1965 - JUN 1965 Blockade of Dominican Republic
SEP 1979 - MAR 1980 Mediterranean
FEB 1981 - APR 1982 Regular Overhaul
SEP 1982 - SEP 1982 Guantanamo Bay
OCT 1984 - APR 1985 Mediterranean-Indian Ocean
NOV 1984 - - - Shellback Initiation - 6 NOV 1984 - Indian Ocean
JUN 1986 - DEC 1986 Mediterranean
JAN 1991 - APR 1991 Desert Storm
JAN 1991 - APR 1991 Desert Shield
SEP 1991 Decommissioned: 30 SEP 1991