Brick Section
(B) Granite
Dates of Service
March 1968 to 5 June 1969
Images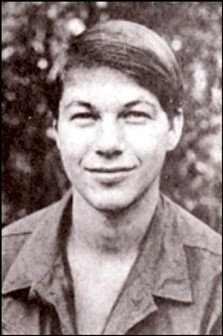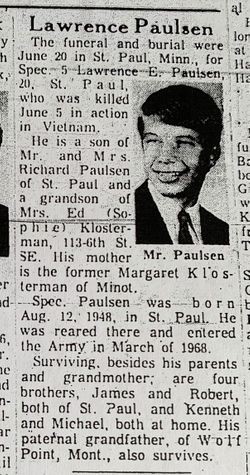 Sgt Lawrence Edward "Larry" Paulsen
Sgt Paulsen was born August 12, 1948 in St. Paul, Minnesota to Mr. and Mrs. Richard Monroe Paulsen, grandson of Christ and Elsie (Thompson) and Ed and Sophia (Ahmann) Klosterman, brother of James, Robert, Kenneth, and Michael Paulsen.
Paulsen graduated from Monroe High School in St. Paul, Minnesota. He entered the US Army in March 1968 and arrived in Vietnam six months later. There, Paulsen served with D Company, 1st Battalion, 12th Infantry Regiment, 4th Infantry Division.
Sgt. Paulsen was a young man of 20 years when he lost his life. He was killed in action on Landing Zone Mary Lou, 13 km Southwest of Kon Tum, Vietnam on June 5, 1969. For his heroism, Sgt. Paulsen received the Bronze Star with a V-device and the Purple Heart. His earthly body was returned to American soil and now rests at Acacia Park Cemetery, Mendota Heights, Dakota County, Minnesota.
On June 5, 1969, the 1/12th Infantry suffered 37 WIA and 10 KIA. Just as these men served together, these 10 names are inscribed together on the 23rd panel of The Vietnam Memorial Wall in Washington, D.C. Sgt. Paulsen will forever be near his comrades.
• SGT Louie F Dalie (23W/73)
• PFC Frederick J Henry (23W/73)
• PFC Thomas G Horal (23W/74)
• PFC David T Howard (23W/75)
• PFC Claudie Metcalf (23W/76)
• SGT Lawrence E Paulsen (23W/77)
• PFC Mack L Preston (23W/78)
• SP4 Alexander P Santiago (23W/79)
• PFC Paul R Tilleman (23W/79)
• CPL Thomas J Williams (23W/81)